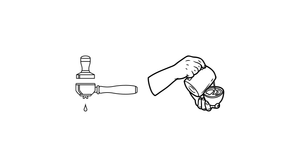 How to Make Espresso at Home
Introduction
You've got the machine, you've got the coffee, but just how exactly do you brew great espresso at home? Well the good news is we're here to break down what goes into getting the best out of your espresso. 
But Before we get started, you're going to need a couple of things:
Equipment
Espresso Machine
Delonghi? Sage? La Marzocco? To be honest with you, it doesn't really matter. As long as your machine can make an espresso, you're good to go.
Grinder
Having a good grinder is an important part of any home coffee set-up. This can be an external grinder or a built in grinder on a bean to cup espresso machine. When selecting a grinder you should always make sure that it's capable of grinding coffee fine enough for espresso brewing. Some grinders on the market are only suitable for filter brewing. 
Coffee 
You can't make espresso without coffee, and we recommend using a specialty coffee from your local roaster ( or from us). If you can't get your hands on locally roasted coffee then you'll find a vast selection at your local supermarket, though results can be different with Supermarket coffee.  
Scale
For consistency and dialling-in (we'll talk about that later), we recommend picking up a scale that can be used to weigh both your ground coffee and your espresso as it's extracting. You don't need a fancy coffee scale either, a standard kitchen scale can get you started.
Breaking Down the Equipment
The Coffee Machine
Getting to grips with your new coffee machine can be daunting, so let's break down the key components so you know what does what.
The Grinder
Whether you have an external grinder or a built-in grinder on a bean to cup machine ( I'm looking at you Sage owners), it's important to know how your grinder works. Here's a quick breakdown. Bear in mind every grinder will be slightly different, but we'll focus on the core components. 
Dialling In

 
Creating a Recipe
Now that you know your equipment, it's time to make some espresso. Creating a recipe for your espresso might sound scary, but it's actually pretty straight forward. We can approach this by using three key variables. 
If you're dialling in a new coffee for the first time, a good place to start is using a 1:2 ratio for your Ground Espresso Weight & Liquid Espresso Weight. That means if you have 17g of dry ground espresso, you should expect to extract 34g of liquid espresso. From there you can adjust to taste by setting your time. We'll talk about this below. 
Extraction Time
With that taken care of, the only other variable left in play is Extraction Time. This is the variable that we'll adjust the most when dialling in a coffee. The extraction time can be altered by adjusting how coarse or fine the ground coffee is. Let's take a more in-depth look. 
Finding the Right Extraction Time
This is the most challenging part of the dialling in process, and this is where we're going to drink a lot of bad espresso on our journey to drinking fantastic espresso. Let's start off by identifying what you're looking for when tasting. 
For the most part, this section is a bit of a trial and error exercise. Every time you brew an espresso, taste it and use the above chart to judge if you've under-extracted or over-extracted your espresso. Once you brew an espresso you enjoy, take a note of your recipe like the example below. 
Now that you've done all that, you're pretty much sorted and good to go. Once you've got the hang of brewing espresso, you can start to experiment and perfect it. It's important to remember that different coffee will require different recipes, but that's all part of the fun. Now all you need to do is steam the milk, but we'll leave that for the next blog post. 
Enjoy your coffee and don't forget, if you need a re-stock we've got everything you need right here.  
---