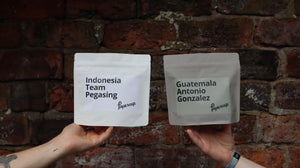 Quality & Quantity
During lockdown we were forced to re-evaluate our bag sizes to make sure you had enough coffee to make it through and also to reduce the amount of trips we were making to the post office. The good news is you seemed to love it, so we've made the decision to increase our bag sizes to 350g going forward. Here's why:
First and foremost, more coffee in the bag means more coffee fo you to enjoy at home.

Larger bag sizes mean you'll have to order less frequently, saving you money on postage. 

Sending you more coffee will help us to reduce our output of single use bags, postage bags and will ultimately contribute towards the reduction of our carbon footprint, as we'll be posting less often.

Also did we mention, you get more coffee.
350g bags are available now across our full range of coffee, so now all that's left to do is get yourself a bag. 
---